Five WonKyu drabbles, most of which I have posted on my tumblr except for the last one, which is a special drabble for New Year's Day ♥

president!siwon & chief-of-staff!kyuhyun

"So tell me."

Kyuhyun raises his eyes, finding the president's gaze on him. In the soft, pale hues of a winter afternoon, he suddenly looks years older.

"This morning's incident with the junior staffer, and then the Cabinet Minister's gaffe, the Secretary of Defence's speech in the afternoon, not to mention that message from the NSA and just now, the phone call from my mother—this entire day has been orchestrated to lead me to this decision. Am I right?"

Kyuhyun does not answer; he knows well enough that his little smirk already speaks volumes.

Which is just as well that Siwon's kiss is equally eloquent.



---

au; thor!siwon & loki!kyuhyun

"If you lay a hand on her," Siwon hears himself say, breath twisting hot in his lungs, "I'm going to kill you."

That the threat fails to serve its purpose is only too obvious when Kyuhyun all-too-nonchalantly steps into his personal space. "I wonder." He pauses, head tilted to one side, and all Siwon can think of is that night when he steals a kiss from those beautiful, beautiful lips. "Is that because it will be me—and not you—who touches her, or because I will be touching her—and not you?"

Siwon freezes, the words caressing him like poison. Somewhere outside, there is a world that needs a hero, and yet he is caught here, in this place and moment, watching the light shift in Kyuhyun's eyes.

Kyuhyun smiles. "My foolish elder brother," he murmurs, trailing a finger along the curve of Siwon's jaw. Then he leans in and destroys all pretence of distance between them.

The press of his lips on Siwon's own tastes like ice—and burns like fire.

When Siwon opens his eyes, the ground is unravelling beneath his feet and neither his brother nor hammer is anywhere to be seen.



---

au; client!siwon & prostitute!kyuhyun

"Even if I say that I love you?"

There is a moment of deafening silence before Kyuhyun replies, the lines around his mouth hardening. "That doesn't mean anything."

"Because I'm married with a baby on the way?"

"Because you're a highly respected man in society and I'm a fucking rent boy. Believe me—you're better off without me."

Siwon flips them around, his lips curling into a snarl. "You know what? The worst thing is I do know that." He tightens his grip, bruising the naked body under him as the words scrape past his throat. "And yet here I am, laying my heart down at your feet."



---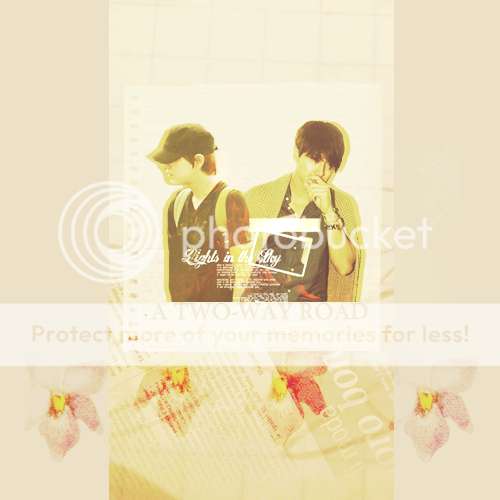 the little things

"Are you alright?"

Siwon smiles, because that is what he does, even in front of the person he loves. But then Kyuhyun reaches down, brushing his bangs away from his eyes, expression tight with concern, and Siwon suddenly wants to cry.

"I'm just tired," he murmurs, pressing a kiss to base of Kyuhyun's palm. They can afford this, probably, with the entire first-class cabin filled with friends, but no more than this.

"I wish," Kyuhyun begins, then stops. His fingers tremble slightly as they trace a path back to the crest of Siwon's forehead. "You still have a fever."

For the some-hundredth time that day, Siwon stills the impulse to pull his lover into his arms and just hold him close—because the thing a man wants the most is nearly always the thing that destroys him. And so he learns to live with denial, day after day, wandering in every imaginable spectrum of what-if's, and instead of I love you, he says, "I've taken something, don't worry."

Kyuhyun's lips thin into an expressionless line. Then his hand falls away, and Siwon experiences a moment of irrational panic. His heart falters. He cannot think. His reaction is purely guided by impulse when he catches the falling hand, fingers clinging to the circle of Kyuhyun's wrist.

"I love you," he whispers, because he's scared, but the list of things they must deny themselves is ever-growing and never-ending—and as long as they still want to fly, to soar even higher, then this is how it's going to be.

Except it's worth every risk to see the look in Kyuhyun's face now, as the words sink in, unmistakable, between them.

"I know." His smile is faint, but the pressure of his thumb on the centre of Siwon's palm is gentle enough to substitute for a kiss. "If you need anything, I'm just across the alley, alright?"

Siwon nods. For it's the little things that matter when the biggest part of your life stands in the way to your happiness. Little things like touches stolen, gazes locked, smiles mirrored—and maybe also something like opening your eyes between one fitful doze and another and finding a paper napkin tucked between the fold of your arms, with the words I love you too scribbled across the white space.

He smiles, heart warming as his fingers trace the hastily scrawled verb. And when he catches Kyuhyun's gaze, he brings the napkin to his lips and kisses the words.

Because in the end, it's the little things that make life more bearable.



---

how deep these bright-eyed feelings run


Of all the things he could do for love, Kyuhyun wondered why he chose to be subjected to this particular torture.

"It's freezing," he declared flatly.

"This won't take long." Siwon was using one of his most charming and most persuasive tones, complete with a disarming smile which had won him too many battles before they were even fought. Regrettably, these celebrated attributes did not quite have their intended effects on Kyuhyun—who was very grumpy and therefore almost impossible to please. In fact, the only thing the younger man could think about was the wintry coldness which was determined to claw its way into the very marrow of his bones and basically rendered his four layers of clothes useless.

The fact that it was New Year's Day didn't exactly excuse their being stupid, but Kyuhyun did find it very difficult to deny his boyfriend's request, especially with the newborn year barely one hour old. Which was why he now found himself standing outside on the balcony, at one in the morning, for reasons entirely passing understanding.

"If we catch a cold, I'll make sure that everyone is going to blame you."

"We won't," Siwon replied cheerfully, the very image of bright, warm—not to mention ridiculous—optimism on such a cold night, and then shoved his cell phone into Kyuhyun's hand. "Please take a picture for me."

That there was always the slightest chance that Siwon's phone would be picked up by the loyal, ever-prowling, not-so-harmless fans was the only reason why Kyuhyun stopped himself from tossing the offensive gadget eleven floors down. "And that's why I'm here? To take a picture for you?" he said indignantly.

Siwon gave him one of his wounded puppy looks. "Just one picture? Please?"

Kyuhyun gritted his chattering teeth and tried not to be swayed too much by either the eyes or the warmth pressed against his back. "Do I want to know why you can't take one by yourself?" he demanded.

"I'll tell you after you take the picture," Siwon promised, warm breath chasing the coldness on Kyuhyun's cheek. "Please? Just press the button and we're done."

Kyuhyun sighed but obliged at last. He snapped a random picture of the sprawling city at their feet, drenched in light and excitement from the New Year's celebration. He was pretty sure the result could not even be called a picture.

"Now what?"

"Now I'll do this." Siwon reached across his shoulders, his equally cold fingers enveloping Kyuhyun's, and set the not-even-a-picture as the wallpaper for his phone.

Kyuhyun was currently trying his best not to look at his boyfriend like he was the most handsome, the most attractive moron in the world.

"You know that I can't use your photo," the other man continued, completely unfazed. "But now, every time I see this picture, I'll think of this moment and remember that you were the one who took it for me on New Year's Day. And it's one more thing to remember you by because, well, I love you."

It took Kyuhyun a few moments to process the entire explanation and get over his initial reaction to simultaneously sigh, blush, scream, facepalm, and smile like an idiot. Yes, Siwon often had that effect on him.

"You are hopeless, do you know that?" was his mumbled, drastically less embarrassing response in the end.

"I do," Siwon admitted, pulling him closer. "Hopelessly in love."

"See?" Kyuhyun rolled his eyes, but the grin pressed against his lips was a mirror of his own. And he would be content to stayed there in Siwon's arms in the cold, any risk of hypothermia or pneumonia be damned, if not for Hyukjae's voice shouting at them: It's friggin' cold and will you two please stop necking on the damn balcony already–



---
A little note for the last one, I know that Siwon didn't go with the rest of SJM to China and WonKyu didn't spend the New Year's Eve together, but a girl can dream, right? :(
Anyway, thank you for reading! Happy New Year, everyone ♥ Let's hope for more WonKyu goodness in 2013 \O/